Working from home may feel more comfortable in the short term. Working from the comfort of your sofa may seem like a perk, but in just a few days it could cause debilitating pain to your fingers, wrists, neck, elbows or shoulders.

If you're going to work from home you need to make sure that you have a comfortable space, that is ideally also ergonomic. People who work from home tend to spend much longer hours sitting at their desks. They may also use their desk for entertainment after work, confining them to the same space for much longer than your 9 to 5 working day.

So if you're already working from home and can expect to do that for the foreseeable future follow these 3 tips to stay healthy:
Get a good ergonomic chair


A good chair will save you a fortune in physiotherapy and muscle pain rubs. Choosing a chair that is adjustable in the right places will help you avoid stressing any part of your body. This is especially important if you already suffer from a slipped disc or neckache. It should also have adjustable height, nack angle and armrests too allow you to make it a perfect match for your table or desk.
Get an adjustable desk or a laptop stand


Adjustable desks are great for a home office because they allow the whole family to use it without strain. This is especially useful if you work on a laptop.





A second option might be a laptop stand that can be adjusted or an arm if you're using an external screen. Though not ideal, if your desk is close to the correct height a stand might do the job.
Don't sit all day


Research shows that sitting day is, of course, bad for you. Stretch and take a walk at regular intervals during the day. More importantly, if you're in lockdown use an alarm to remember to stretch and move around. Put on your favourite song and dance for a few minutes to move your body and give your eyes a break.  
Are you setting up your home office?
We have a specially reduced ergonomic chair that will make a perfect fit for your home office…
Every point is adjustable to ensure ergonomic comfort around your whole body.
Ask for the SUPPORT SY in our chat (below on the right) or email [email protected]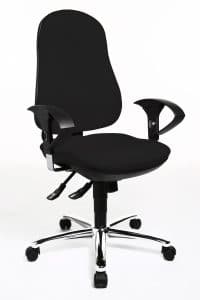 Special Price €151 + VAT